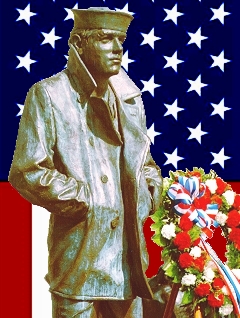 FIREMAN FIRST CLASS WILLIAM F. LASKOWSKI JR was born in 1890 to William and Francis Laskowski. His parents had came to America from Poland, and William Jr. may have been born there. William Laskowski Sr. operated a saloon as of the January 1920 census, when the family lived at 1151 Haddon Avenue.
William Laskowski first went to sea around 1907, enlisting in the United States Navy in Philadelphia under the name William F. Laskon. While serving with the Navy in 1914, he was wounded in the arm and leg when Mexicans fired upon United States naval forces during the occupation of Vera Cruz, November 21-23, 1914.
William Laskowski was an original member of the crew of the USS Jacob Jones DD-61. Jacob Jones, a Tucker-class destroyer, was launched 29 May 1915 at the New York Shipbuilding Corporation shipyards in Camden NJ. She was was commissioned in February 1916.
The Jacob Jones served along the East Coast during the next year and conducted war patrols in the same area for a month after the United States' April 1917 entry into the First World War. In May 1917, Jacob Jones, under the command of Lieutenant Commander David Bagley crossed the Atlantic to begin anti-submarine patrols and convoy escort work out of Queenstown, Ireland. She rescued survivors of several torpedoed ships during the next several months. Arriving Queenstown, May 17, she immediately began patrol and convoy escort duty in waters of the United Kingdom. On July 8 she picked up 44 survivors of the British steamship Valetta, the victim of a German U-boat. Two weeks later, while escorting British steamship Dafila, Jacob Jones sighted a periscope; but the steamship was torpedoed before an attack on the submarine could be launched. Once again a rescue ship, Jacob Jones took on board 25 survivors of the stricken Dapfila. On 19 October she picked up 305 survivors of torpedoed British cruiser Orama.
On December 6, 1917 Jacob Jones was one of six destroyers returning from Brest after escorting a convoy to France. At 1621, as she steamed independently in the vicinity of the Isles of Scilly, her watch sighted a torpedo wake about a thousand yards distant. Although the destroyer maneuvered to escape, the high-speed torpedo struck her starboard side, rupturing her fuel oil tank. The torpedo was from the German submarine U-53. The crew worked courageously to save the ship; but as the stern sank, her depth charges exploded. Realizing the situation hopeless, Comdr. Bagley reluctantly ordered the ship abandoned. Eight minutes after being torpedoed, Jacob Jones sank with 64 men still on board.
Of the 38 survivors, two were taken prisoner by the U-boat, others rescued by two British ships that responded to a radio signal sent out by U-53ís Captain, Hans Rose, and reportedly, Lieutenant Commander Bagley and five others managed to row ashore.
William Laskowski was 27 when he was killed in action. He was survived by his parents, of 1151 Haddon Avenue, in Camden NJ, brothers John W. and Joseph S., and sisters Helen F., Anna, and Hedwig Laskowski. He had also listed an address at 1426 Atlantic Avenue, in Camden.